Patriotic Beach Balls, Super & Sports Balls 401-841-5646
9" - Patriotic beach ball CB-332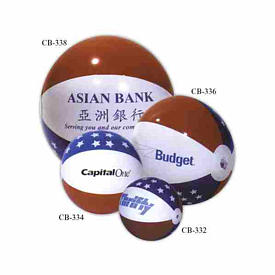 9" - Patriotic beach ball with 2 red panels, 2 white panels and 2 blue panels with stars. nf3928
Patriotic beach ball with 2 red panels, 2 white panels and 2 blue panels with white stars.
Color: Red-White-Blue Minimum Prod Time: 8 day(s) Size: 9"
ADDITIONAL COLORS avail Please call
Set Up Charge $40 /Color, Repeat Set Up Charge $10 /Color
One color, one location standard size logo imprint.
Price
$3.48
$2.98
$2.58
$2.28
$2.08
$1.98
CALL FOR PRICING! 401-841-5646


We are not limited to the patriotic promotional products and flag designed promotional items shown...we can offer you any product with your custom logo or message. Just search our extensive product database by item name. You could even make your own custom patriotic design for most products you see in our catalog. Call us with your special request at 401-841-5646.

CALL 401-841-5646 today. Quantities Limited!
EMAIL: Info@patriotic

Call Us For Special Quotations. Minimum Order $250.


401-841-5646 / 800-520-1691
1151 Aquidneck Avenue. Suite 498. Middletown, RI 02842 USA
home | search products | contact us | specials | closeouts shipping + ordering information | disclaimer | general terms | artwork requirements
Copyright © Patriotic-Promotions.com. All Rights Reserved.